Application Procedure
Finish Application

Wait for contact

Payment by instruction
 This course is also offered in other languages.  For language in 中文, please refer to this webpage for details.
---
Data Scientist Program
This Program is designed to follow the latest data science trends, teaching our students with the most common and popular tools in machine learning and artificial intelligence. Our scientists and mentors design the program from the ground up, tailored to meet the needs of data science industry. We have our trainees developed comprehensive skill sets to fill the gap between university and the industry. Our in-house research & development team has created numerous data science projects from real industry consulting cases for students to practice. We want to have truly innovated environment for students to master big data workflow. The program effectively combined school research experience with hands-on practices to accelerate our students into professional data scientists.
---
1.Basic Courses closely combined with the needs of industry
All the courses in Data Application Lab are taught by experienced data scientists from top-notch high-tech companies.
We will teach you the hands-on skills of data mining, machine learning, web crawling, data visualization etc., as well as the operation of Hadoop and Spark platform.
We will cover the basic CS algorithms to build a solid theoretical foundation for you.
Professional TAs with strong experiences are hired to answer questions and assist your study.
Our Hadoop/Spark cluster is available for our students 24/7.
Leetcode exercises tutoring.
To check the detailed class schedule, please download the syllabus.
Part of Mentors in Data Application Lab:
Career Counselor Jason Geng
Chairman at International Data Engineer and Scientist Association(ideassn.org)
Senior full-stack data scientist at Symantec
Lecture at University of Southern California University
Mentor Feng
Engineer VP at Bank of America
Computer science PhD at University of Texas
Mentor Peter
Senior data scientist at LinkedIn
Physics PhD at Duke University
Mentor David
Data Scientist at Ebay
PhD from University of California at Riverside
Mentor Kenan
Data Scientist at Data Application Lab
Environmental Science PhD at Louisiana State University
Mentor James
Data Scientist at Microsoft
Statistics PhD at Purdue University
Mentor David
Senior data Scientist at Discover
Chemical PhD at Purdue University
Mentor Kai
Data Analytics manager at CapitalOne
Data Scientist
---
2. Build Your Portfolio with Practical Projects
The practical experiences are the most important and convincing parts in entry-level data scientists' resume. Real data experiences will distinguish you from others who only take courses online, and make you outstanding and attractive for hiring managers.
So in order to provide our students the hands-on experiences, besides the courses we also provide with 8-week Kaggle Competition and practical projects. Our students will create the solutions throughout the process including identifying market needs, preparing data, feature engineer, model selection, model optimization, and result presentation. All the operations will be done on our enterprise-level cluster. In this way, students can better master different machine learning models and basic skills of cluster platform operation, which would be beneficial for the preparation of job interview.
Our practical projects are supported by start-up companies, who will provide the real data operation and internship certificates.
In-Progressing Kaggle Competition
The Kaggle Competition is the largest data modeling and data analysis competition in the world, and is also a platform for data scientists to communicate and compete with each other on a global scale. Data scientists can solve actual problems published by top-notch companies by analysis and modeling. In our project, students will be able to participate the In-Progressing Kaggle Competition under the guidance of our professional mentors, and will actually consolidate what we have learned through practical applications.
Up to now, our students have achieved very good performances in various Kaggle competitions, usually in the top 3% of the total ranking. In August 2016, One of our students achieved a gold medal under our instructions! The working on Kaggle competition will be a valuable experience for our students.
High-Profile Practical Projects
In addition to Kaggle Competition program, we also provide two practical projects with high commercial value.  Every project is delicately designed by the combination of our experienced mentors and people from our collaborated companies and can be displayed as a demo project during the interview.
Practical Project
FinTech (Financial Technology) Project
Typically, the Lending Club (a Peer to Peer lending marketplace) contains hundreds of loan projects, which makes it difficult for investors to choose a profitable one. In our FinTech project, we will use the data science knowledge we've learned in the courses to design a product as an intelligent investment advisor, helping investors identify the values of different projects in Lending Club, to determine the optimal projects to invest in. When the new loan project comes into the platform, our product would automatically analyze the project's parameters and screen out the best investment projects. We will also design a simple web page to realize the interaction between our product and users. In this project, what you will do:
1,320,000+ data processing and 100+ data feature screening.
Build the machine learning model by Gradient Boosted Regression Trees (GBRT).
Design the web user interface to display our product.
Our product realizes the project evaluation and best investment project screening on Lending Club.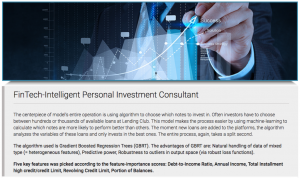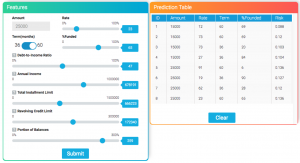 Steam Game Recommendation System Project
The implementation of Recommendation System is very popular in recent years, specifically, it has been widely used in game platforms. In our game recommendation system project, based on the Steam Platform, we will analyze the user's game playing history and design a recommendation system according to the popularity of the games. Our users will also filter the results by selecting the categories of interest to further refine the recommendation results. Our students will experience a series of complete high-level product development processes including product definition, data crawling, data import, data analysis, recommendation system platform design, effective evaluation and so on.
Data collection from Steam Game Platform.
300+ feature processing and screening.
Realize Game Recommendation basing on the Popularity-Based Recommendation Algorithm.
Deign the user interaction interface to display our product.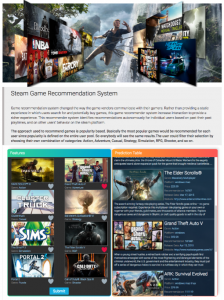 ---
3. Land the job with solid communication skills and excellent interview performance
Our mentors and experienced interviewers from consulting firms and high-tech companies will train you with solid communication and interview skills.
Our mentors will help you walk through a full preparation for your interviews.
Free Resume Review for our students.
We provide plenty of job referrals for our outstanding students.
---
What else can you expect?
Go together, we can go faster and further
Throughout our program, we can equip you with the best support to enter the field of data science. When you encounter problems, we will offer help in the earliest time so that you will break the learning barrier and not encounter the dilemma while self-learning.
Our mentors and lots of past students are now working in various top technology companies. The networking with them will provide you the first-hand working experiences, interview experiences and customized referral.
Experienced and devoted teaching team
Our skillful and highly responsible Teaching Assistants are here to help you tackle any problem you encounter during study and lead you step-by step. With their expert, nothing can block you from success.
---
Are there any requirements if I want to register in this program?
Academic Background: There are no specific requirements on the academic background. Our past students have various backgrounds, including EE, Statistics, Math, Physics, ME, Chemistry, Petroleum Engineering etc. Their education levels differ among BS, Master, and Ph.D.
Prerequisites: Basic knowledge of Python, Machine Learning, and Statistics.